Insercorp launches campaign announcing new doctor and location for Chesapeake Bay ENT.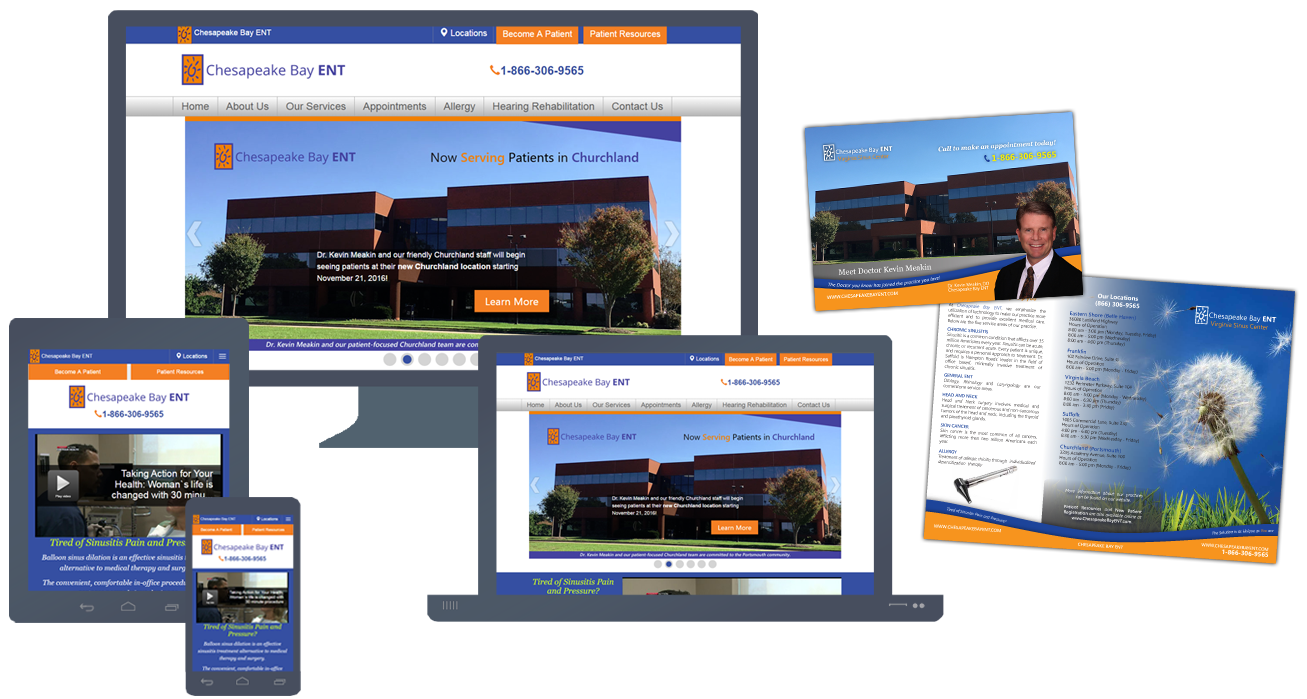 Dr. Scott Saffold, Dr. Kevin Meakin, and ENT Practitioners Alexis Britton, PA-C, Ping Gao, PA-C, and Parish Malone, PA-C, along with the staff at Chesapeake Bay ENT (Ear, Nose and Throat) provide state-of-the-art medical care in the field of Otolaryngology.
In May 2016 Dr. Saffold and the team at Chesapeake Bay ENT opened up a Suffolk practice to conveniently serve patients in the Western Tidewater area with an office next to the Sentara Obici Hospital. They utilized Insercorp's integrated marketing services to promote the opening of their new location and entry into the Suffolk market (click here for the Suffolk Location Campaign details).
In November 2016, Chesapeake Bay ENT was able to open another new location in Churchland (Portsmouth), Virginia to serve patients in the Western Branch area. They chose none other than Insercorp to help them promote the opening of their new location.
Upon opening the new Churchland location, Chesapeake Bay ENT also added a new Doctor to their team - Dr. Kevin Meakin, DO. Helping CBENT successfully announce their addition of a new provider was just as important as announcing their new location.
Just as Insercorp had previously done upon the launch of Chesapeake Bay ENT's Suffolk practice, Insercorp leveraged relationships with the local newspaper/media to launch a multimedia campaign announcing the new Churchland location. The campaign included print and web designs which included new direct mailers, tri-fold brochure, and several updates to the ChesapeakeBayENT.com website including a new Staff Module and information about the new Churchland practice and the new provider, Dr. Meakin.
Print Materials Include:
6"x9" Direct Mailer/Postcard Design

Western Branch Living Half-Page Ad

Tri-Fold Brochure (Outside)

Tri-Fold Brochure (Inside)


Website Materials Include (but are not limited to):
Fixing the Churchland Location Image (to remove van, truck, and sign)

New Churchland Location Slide (Homepage Slideshow)


Meet Dr. Meakin Slide (Homepage Slideshow)


Franklin Location Slide (Homepage Slideshow)


Churchland Location Header


Franklin Location Header


Learn more about the new Churchland Location >
Learn more about Dr. Kevin Meakin, DO >
Visit ChesapeakeBayENT.com >