Insercorp has updated WeBeJammin.com with the new 2018 Line-Up and more!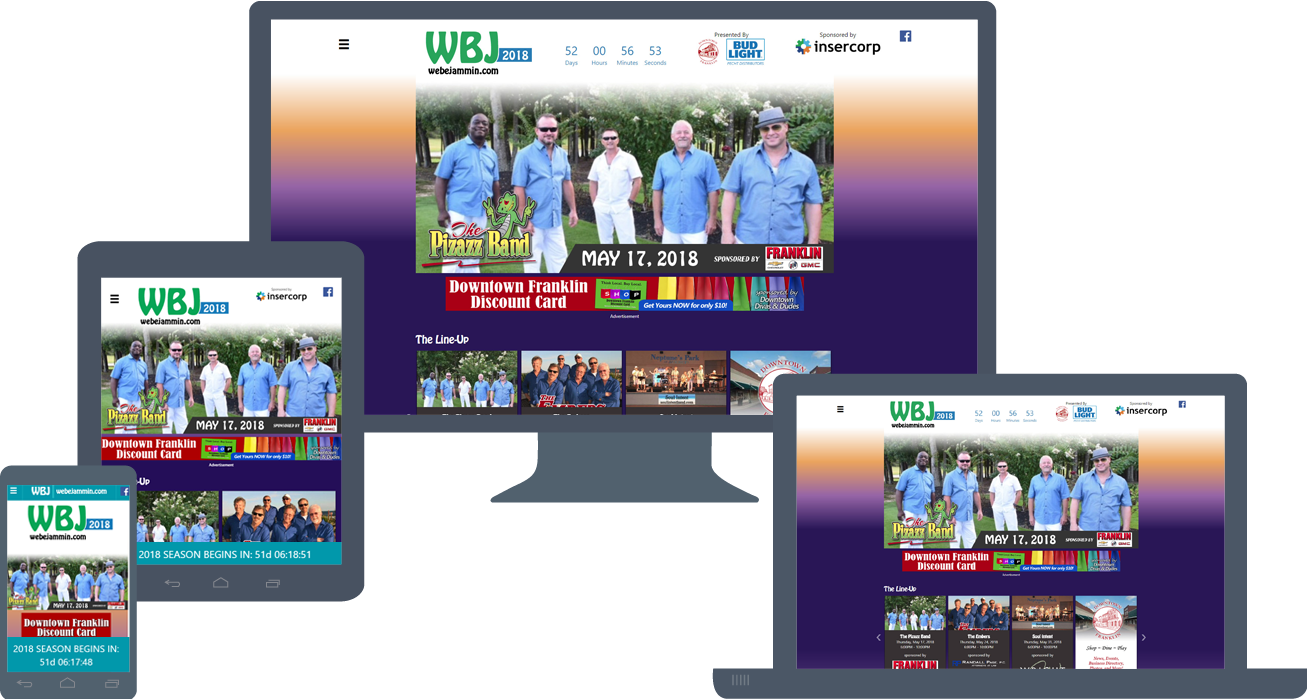 This year marks the 10th year that Insercorp has provided website and social media sponsorship for Downtown Franklin's Summer Concert Series, We Be Jammin' (WBJ). Insercorp takes pride in being able to help our community by providing outstanding services to get people excited about and attending this local, family-friendly event.
We Be Jammin' is a weekly summer concert series presented by the Downtown Franklin Association, Inc. and Bud Light® Pecht Distributors that is held every Thursday from 6:00PM to 10:00PM between May and September at Barrett's Landing Park in Downtown Franklin, Virginia.
The new WeBeJammin.com features a unique, innovative design theme originally launched last year for the 2017 We Be Jammin Summer Concert Series. The website is responsive - meaning it adapts to the screen size of any device, from smartphones to desktop/laptop computers.
This year's website provides attendees with useful information such as the band line-up, directions, event photos with Facebook commenting, and more while also providing ad space for businesses interested in reaching the thousands of visitors the website receives both on and off season. WeBeJammin.com also features archives of the past ten years of We Be Jammin.
This year a live countdown was added to the website. The clock counts down in real time to the very second that the WBJ series begins on May 17, 2018.
In addition to the newly updated website Insercorp has also provided our Creative Services to design a new poster and flyer for the event, as well as designing the graphics for and managing the We Be Jammin' Facebook page.
Follow the links below for more details: