Insercorp joins regional industry leaders in supporting Hampton Roads' two-day software development conference at the Virginia Beach Oceanfront.

RevolutionConf is a two-day, platform and language agnostic, software development conference being held June 1-2, 2017 at the Wyndham Virginia Beach Oceanfront. The event will feature 56 speakers from regional, national, and international thought leaders.
Some of the best minds in the software industry are converging in Virginia Beach in June for RevolutionConf. Insercorp's Development Team will be joining other developers, thought leaders, and industry experts to share insights and knowledge.
At Insercorp it is our vision to provide an environment of ethical, innovative, and inspirational business practices to a global technology market while strengthening our local communities and striving to become the leader of quality web, marketing, and technology services. That is why we chose to become a bronze sponsor of RevolutionConf 2017 - in order to expand our knowledge and capabilities to exceed our clients' expectations and foster innovation while adapting to the dynamic technology sector.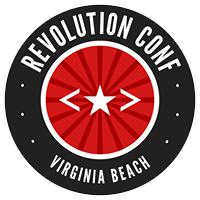 Registration is still available for Wave #2 of the Conference and we would love to see you there! Tickets include:
2 days of amazing speakers from Microsoft, Google, Yahoo, BuzzFeed, Heroku, BrainTree, and more
Access to 4 workshops from industry experts teaching you Azure, AWS, Docker, and ES
Breakfast and lunch
Luau and post-event happy hour
Unforgettable memories
Insercorp is proud to announce that one of our associates will be speaking at the RevolutionConf this year - Paul Chin, Jr.! At Insercorp, Paul enjoys interacting with clients to find a technical solution for their needs. After uncovering what a client's wants and needs are, he uses his knowledge and skills to help find the most effective ways to use the latest technologies and methods to achieve the client's business goals and ideas.
Paul's event at RevolutionConf will be called "Nicolas Cage: The Path To Programming" and will include key points and information on JavaScript, Nodebots, NodeJS, and more. Paul hopes to learn from the best in the industry at #RevConf and give back his own experiences so that everyone can help each other within the software and web development community.
"Revconf is critical to building a shared community around software development. There are very few absolutes in developing software. The same problem can be answered in an infinite amount of ways. So it's important that as an industry, we can come together to discuss all the options, and build ourselves even better tools."
- Paul Chin, Jr.
See the Speakers >
Get Your Ticket(s) >
---
About Insercorp LTD
Insercorp LTD, a certified SWaM Vendor in the Commonwealth of Virginia with Micro-Business Designation, was founded in 2007 as Bradshaw-Kimbrel Technology Group, LLC and incorporated as Insercorp LTD in 2010. The website design and development firm is best known for the creation of iPlasmaCMS2, a user-friendly web-based application that provides Website Administrators with the ability to make website updates in real-time and complete control over their website content through an intuitive interface.
Insercorp provides website, marketing, and information technology services to business, education, government, healthcare, and nonprofit organizations. Insercorp's work has received first place awards on State and National levels. For more information, please click here.
About RevolutionConf
RevolutionConf is organized and supported by the board members of RevolutionVA, a 501c3 non-profit based in Norfolk, VA. The goal of RevolutionVA is to unite software developers in the mid-Atlantic region through conferences, and career and learning opportunities.
For more information, please visit www.revolutionconf.com or www.revolutionva.org.