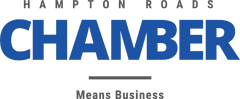 The Hampton Roads Chamber of Commerce is comprised of over 2,500 members concentrated in the South Hampton Roads sub-region of Hampton Roads, VA. HRCC currently has offices in Norfolk, Virginia Beach, Chesapeake, Portsmouth, and Suffolk but is undergoing a consolidation of offices to one central location in Norfolk, VA. HRCC provides business support and professional networking for small businesses and other regional institutions.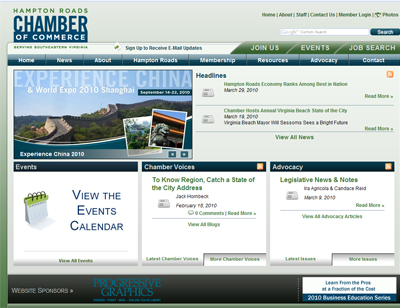 In 2010 we took on the challenge of designing and developing a new website for the Hampton Roads Chamber of Commerce, the largest Business Membership organization in Hampton Roads and one of the largest organizations in Virginia. This project included integration of existing database-driven applications into the new design (through a matching design skin) as well as development of a custom Staff Directory module and a multi-level website search engine. The powerful new website includes user comments on blogs, new member application, newsletter list signup, and more.
In 2014 the new Hampton Roads Chamber of Commerce website was launched.
Features
iPlasmaCMS2 Content Management System
Slideshow Module
News Module
Blog Module
Gallery Module
Staff Manager Module
Google Custom Search Engine Plugin