Offering Quality Web Solutions Paves a Way for Insercorp to Lead at GoodFirms
Insercorp partners with industry leaders to offer its clients custom, results-driven solutions.
Providing quality web solutions to the clients endows Insercorp among the top web development service providers in Virginia at GoodFirms.
Washington, D.C. based GoodFirms is a maverick B2B research and reviews firm that aligns its efforts in finding the top web development, web designing, and digital marketing agencies delivering unparalleled services to its clients. GoodFirms' extensive research process ranks the companies, boosts their online reputation and helps service seekers pick the right technology partner that meets their business needs.
Founded in 2007, Insercorp LTD is headquartered in Hampton Roads, Virginia. It is a small company with big ideas. Insercorp presents quality website design and application development services to business, government, non-profit organizations, health care providers, and educational institutions. Insercorp's proprietary content management system, iPlasmaCMS2, is created to be intuitive and user-friendly, which makes it easy for the diverse buyers to manage their websites and business thesis from a web-based hosted solution. Competitive setup prices and do-it-yourself management makes it easy, affordable, and useful for any solution. In addition to presenting the tools to succeed, the team offers to the clients complete solutions right from strategic consultation to design and implementation. The organization partners itself with the top brand names in the industry to give results-driven solutions while understanding clients' unique needs.
GoodFirm' Research Methodology:
GoodFirms is a well-known online B2B enterprise that connects the rift between IT service seekers and service providers. The panel of skillful examiners and researchers at GoodFirms values a wide range of IT teams that yearn to be a part of the list of service providers. The research process is governed based on the company's market keen-sightedness, patron's satisfaction, and total expertise gained in the industry in contrast to other groups. These groups are further viewed based on the three most essential parameters of GoodFirms search process, viz Quality, Ability, and Reliability.
Analogously, GoodFirms assayed Insercorp and affirmed that the company is one of the leading brands in providing exceptional services and solutions at GoodFirms in web development, web designing, in Virginia, respectively. The researchers also concluded that Insercorp would soon get dubbed amongst the top digital marketing companies in the USA at GoodFirms.
The following is the citation from the evaluation made by GoodFirms' researchers for Insercorp.
Creating Bespoke Websites:
At Insercorp, the agile experts produce bespoke applications, platforms, and products to meet the specifications of clients' business no matter if it is an old or new venture. The expert web developers create responsive websites by modifying menus, controls, and other visuals to fit the device on the basis of its current screen width and height. The team assures that the user always gets the best possible experience regardless of what device they're using. As a Microsoft Gold Partner, Insercorp's developers' team mainly use Microsoft tools to develop the client's websites; however, they do have experience with a whole array of tech stacks. At the front end, the experts employ browser-based technology such as HTML5, served by JavaScript and PHP programming. The team combines the best technical platforms, including Hybrid Cloud Hosting across popular Cloud providers, SQL Databases, and Enterprise Web Application Frameworks. They also know the scripts that create interactivity on the web, such as JavaScript frameworks inclusive of React & Angular. The qualified and skilled developers at Insercorp create a prototype that will give updates to clients throughout the process. This prototype enables the clients, and other stakeholders, to 'play' with the website along the way and flag any design or functionality that isn't quite right. Hence, providing bespoke operational websites endows the developers team at Insercorp to get dubbed amongst the top web developers in Virginia at GoodFirms.
Elegant Web Designs that Attracts Users:
The design services rendered by the artistic team will greatly enhance clients' businesses' presence on the internet. The brand tenders incorporate a potent mixture of brand strategy with a bountiful splash of creative juices and get blended in the latest trends in Website UX and UI design and programming as a chaser. Since its inception, Insercorp has produced and built many websites and custom web applications. The designers' team crafts beautiful web-based solutions for clients to give their users ultimate online shopping experiences. The technical experts perform a meticulous evaluation of clients' project needs and available technology stacks, so as to provide the clients with responsive web designs. Furthermore, with proven industry experience and extensive market research across industries, the team validates clients' ideas and presents a viable solution. Besides this, the group works continuously towards upgrading and enhancing clients' products by adding the latest features and trending technology. Thus, by gathering requirements and merging the imagination to craft eye-catching web designs for clients, facilitates Insercorp as one of the best web design companies in Virginia at GoodFirms.
Getting More Leads Through Digital Marketing:
At Insercorp, the market-driven experts render top-notch on-page SEO optimization techniques that are solely concerned for digital transformation and optimization of site pages that enhance clients' business website's search engine rankings. These rankings ultimately earn organic traffic from multiple sources with on page optimization for clients' business. The technical experts at the company will spout all the issues related to the website structure, performance, and configuration metrics. Moreover, the professionals employ powerful real-time information collection tools to manage an ongoing performance evaluation of clients' brands. The purpose of giving seamless feedback will draw leads and improve clients' SEO strategy to produce an enormous amount of ROI.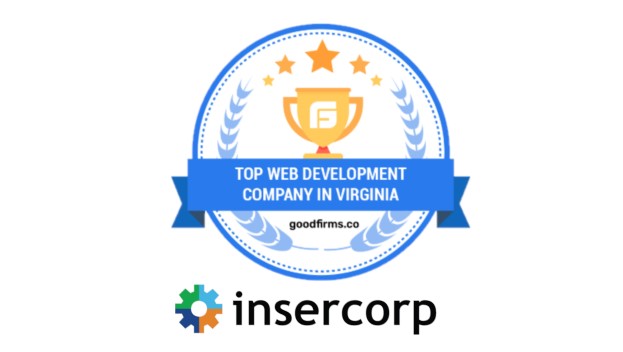 Furthermore, the talented and creative team holds experience in collaborating with the clients to develop unique brands that reflect their vision by developing unified advertising campaigns. They also help business people to communicate their message directly to their intended audience. To ensure that social media services provided by Insercorp are producing excellent results, the team at the company offers round-the-clock services to build traffic and credibility for clients' business. GoodFirms researchers believe that by boosting web traffic, conversions, and sales through their robust strategies & solutions, Insercorp taps into the list of the leading digital marketing agencies in Virginia at GoodFirms.
Disclaimer: The opinion of Insercorp Water Cooler Bloggers are of their own and do not reflect the official position(s) of Insercorp LTD.