Website Development
Our development team has successfully delivered over 150 website development projects, working with both in-house web designs and third party web designs for projects from other creative and marketing firms.
We Develop Websites with our Very Own User-Friendly Website Management Platform
iPlasmaCMS2 is a Website Content Management System that we created and developed beginning in 2007. Many of our clients have shared with us how much they enjoy using our system over other systems they had previously used including Joomla!, Drupal, and WordPress.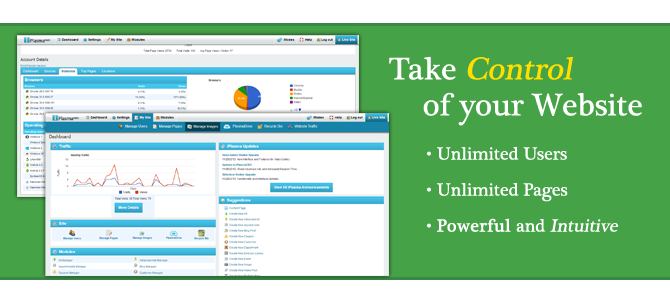 iPlasmaCMS2 was built on three pillars:
User-friendly: We focus on designing intuitive interfaces to make a Website Administrator's job easy managing content on a website, whether it is a small five-page brochure website or a hub of information with thousands of pages. Keeping up with website content can be a challenge without a well-organized Content Management System.
Scalable: iPlasmaCMS2 is modular and allows for pre-existing modules and plugins, custom modules and plugins, and third party plugins and APIs to provide for a website that can grow and adapt to the needs of any business or organization.
Secure: Although iPlasmaCMS2 is built on the open source Zend Framework (which is also a highly stable and secure framework) it is a proprietary system and the source code is kept secure, keeping websites it manages safe from unwanted hackers and malicious software.
Find out more at www.iPlasmaCMS.com.
We Incorporate Leading Technologies to Benefit our Clients
From web coding and programming to databases and our application framework, we use the best technologies to serve our clients and ensure functional, high performing, and fast database-driven websites and applications.