Business Communications Systems
RingCentral is a global provider of cloud-based business unified communications and collaboration solutions (UCC).
Providing increased flexibility and cost effectiveness, RingCentral's platform offers much more than traditional office phone systems, VoIP business phone service, or virtual PBX.
What is RingCentral Office?
The #1 All-in-One Unified Communications Platform
RingCentral Office is a comprehensive platform of features that unify voice, SMS, team messaging and collaboration, conferencing, video meetings, webinars, contact center, and fax, empowering today's mobile and distributed workforces to be connected anywhere and on any device.
As a RingCentral Partner, Insercorp can get you the best RingCentral deals, provision new phone numbers or port existing numbers, and assist you in setting up your new business communications system, including helping you with selecting the right integrations from the RingCentral Apps Marketplace to optimize your productivity and streamline your marketing and communications efforts.
Stay Connected with RingCentral in partnership with Insercorp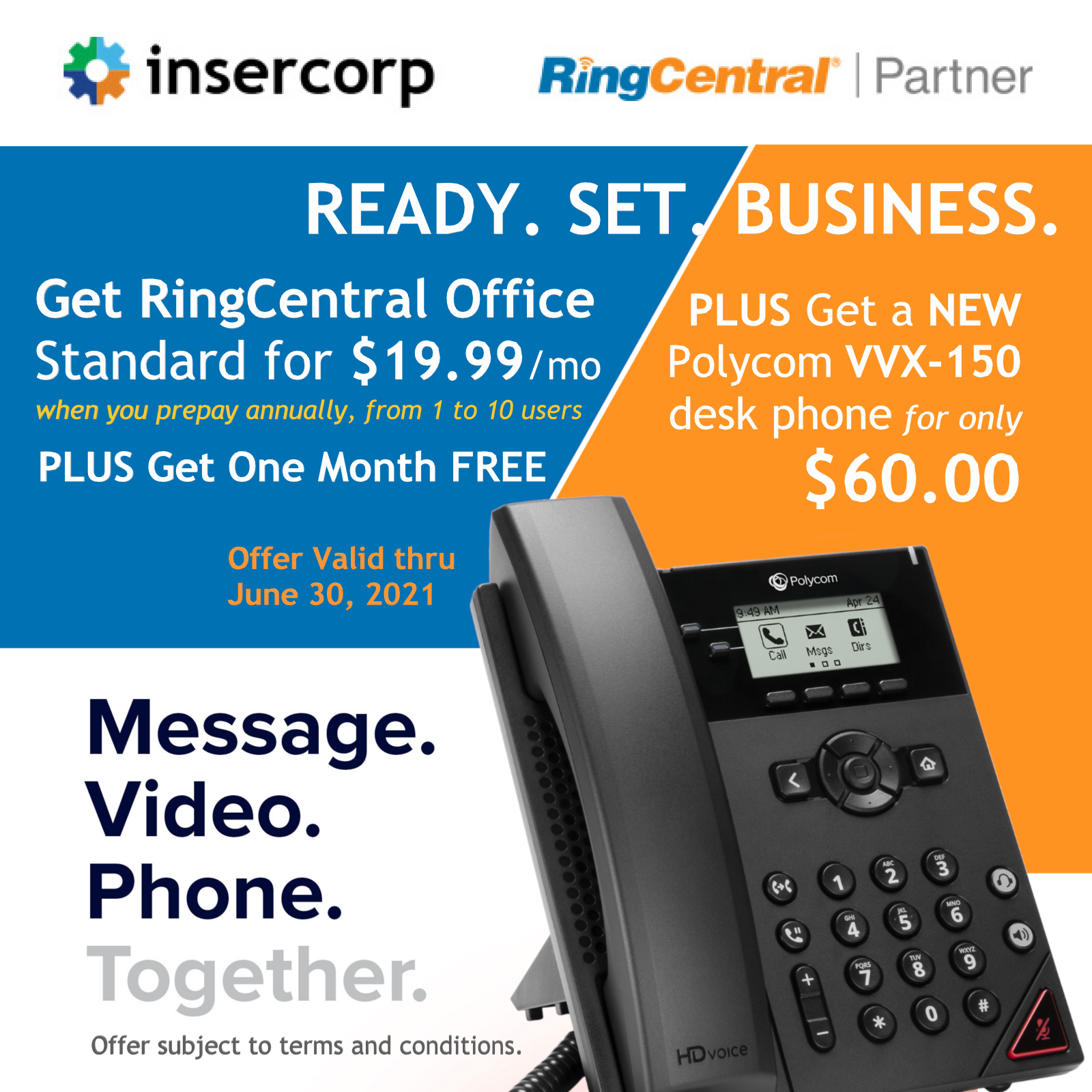 Follow the link below to take advantage of current promotions and request a quote by filling out a basic form so that we can get a better understanding of your needs.
---
RingCentral Office Details
RingCentral is an easy-to-use, flexible business phone system designed for small and medium businesses that works the way your customers do. RingCentral offers a complete cloud-based phone and fax solution with big business features and mobility for a small business price.
Get the eBook "Moving to a Cloud Phone System and UCaaS: A Guide for Business Leaders" for FREE when you request a quote using the link above (a download link will be emailed to you).
Small Business Demo
RingCentral Resources
Download technical documents and get links to download the RingCentral App for your PC, Mac, iPhone, or Android device.
White Papers
Is a Cloud-based Phone System right for my customer's business?
Infographics
---
RingCentral Contact Center

Cloud-based RingCentral Contact Center helps strengthen customer loyalty by dramatically improving the overall call center experience.
This omnichannel solution lets customers contact your company on the communication channel of their choice, while giving agents ready access to the data needed to solve problems quickly and efficiently.
With powerful administrative tools and a simple drag-and-drop development environment, RingCentral Contact Center reduces the dependence on IT and puts control back into the hands of call center managers.
White Papers:
Infographics:
Take Off in the Cloud Infographic