Insercorp helps turn Southampton FBLA students' dreams into reality by sponsoring their trip to the National Competition in California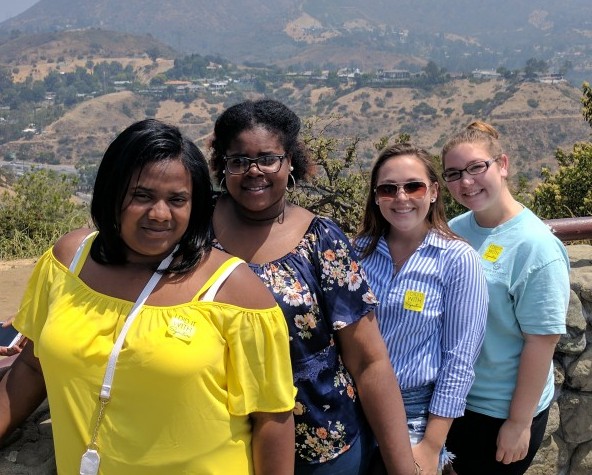 Left to Right: Alyshia Hill, Shakiya Hill (3rd place Graphic Design) Megan Schwab, Haleigh Power (1st place Business Financial Plan)
Tuesday, August 8th, 2017, Franklin, Virginia - The Future Business Leaders of America (FBLA) prepares students for real world professional experiences. More than a quarter million students participate in this dynamic leadership organization. FBLA provides students with leadership development skills, community service experience, networking opportunities, scholarships, and more.
The Southampton High School Chapter of FBLA has had an amazing year. They were successful in both the regional and state level competitions. On April 7th-9th, 2017, they attended the State Leadership Conference in Reston, Virginia and participated in competitive events. Southampton's FBLA had two teams to place 5th, two teams to place 4th, one team placed 3rd and one team placed 1st in their respective events. The team that placed 1st (Business Financial Plan) and the team that placed 3rd (Graphic Design) attended the National Leadership Conference in Anaheim, California on June 29th through July 2nd, 2017 to compete in the National FBLA competition.
Insercorp believes that a strong business foundation includes investing time and resources into strengthening the local community, especially when it comes to education. We support our community by providing sponsorships or pro bono services for local events and organizations, such as the FBLA. Insercorp is proud to support the Southampton High School Chapter of FBLA with a sponsorship of $500.00. The funds went towards the travel costs to send these amazing students to the National Leadership Conference in Anaheim, California.
"Sharing our story and journey at this national workshop was truly an honor," said Mrs. Melissa Edwards, teacher and FBLA club sponsor.
"Mrs. Preau and myself were able to give ideas and tips to help other schools complete this service project successfully with their FBLA. We were asked to speak due to our unique goal of student empowerment and to share how we incorporated the leadership lessons into graphic design and business classes reaching a large number of Southampton High School students".
While at the National Leadership Conference in Anaheim the Southampton High School FBLA team was asked to speak at a Lead 2 Feed workshop for over 75 students and advisors from around the country. Lead 2 Feed is a service project that FBLA supports and encourages young leaders to complete. The Southampton High School team won one of their awards nationally this April. Their project started in September 2016 and continued through March of this year. Through Lead 2 Feed the team completed a six lesson extended workshop, projects donating to the Trooper Hill Toy Drive, a local family that lost their home in a fire, and to the Walk In It Inc. organization. The Southampton Lead 2 Feed team's "big goal" was student empowerment and making leaders.
---
About Insercorp LTD
Insercorp LTD, a certified SWaM Vendor in the Commonwealth of Virginia with Micro-Business Designation, was founded in 2007 as Bradshaw-Kimbrel Technology Group, LLC and incorporated as Insercorp LTD in 2010. The website design and development firm is best known for the creation of iPlasmaCMS2, a user-friendly web-based application that provides Website Administrators with the ability to make website updates in real-time and complete control over their website content through an intuitive interface.

Insercorp provides website, marketing, and information technology services to business, education, government, healthcare, and nonprofit organizations. Insercorp's work has received first place awards on State and National levels. For more information, please click here.
---
About FBLA
Future Business Leaders of America-Phi Beta Lambda (FBLA-PBL) is a nonprofit 501(c)(3) education association with a quarter million students preparing for careers in business and business-related fields.
FBLA-PBL is headquartered in Reston, Virginia, and organized on local, state, and national levels. Business teachers, advisers, and advisory councils (including school officials, businesspeople, and community representatives) guide local chapters. State advisers and committee members coordinate chapter activities for the national organization. For more information, please visit schools.southampton.k12.va.us.
---
Media Contacts:
Southampton High School FBLA
Melissa Edwards
FBLA club sponsor
757-653-2751
[email protected]
Insercorp LTD
Shelby Matthews
Administrative Support Assistant
757-377-2940
[email protected]
###