Insercorp has reeled out a new website for Bell Isle Marina in Hampton, Virginia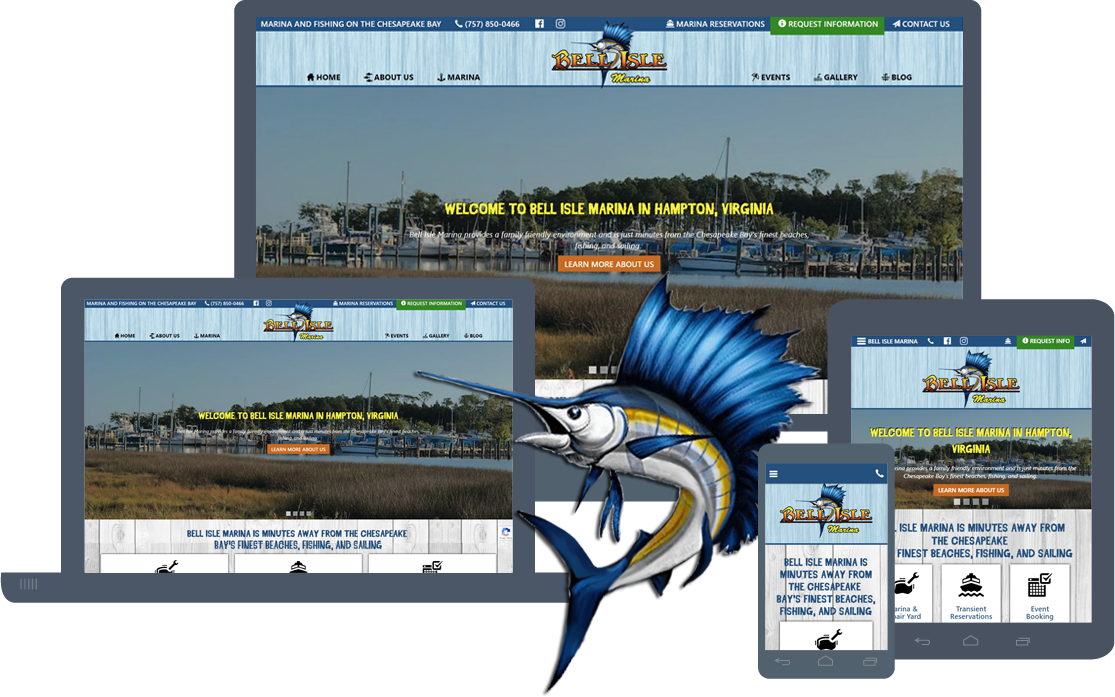 Hampton Roads, Virginia -- Insercorp has announced the launch of a brand new Website for Bell Isle Marina in Hampton, Virginia. Bell Isle Marina provides a family friendly environment and is just minutes from the Chesapeake Bay's finest beaches, fishing, and sailing. Insercorp helped Bell Isle replace its existing website, developed on WordPress, with an interactive and intuitive interface powered by Insercorp's proprietary iPlasmaCMS2 Web Content Management System. The new website features a custom layout, blog, gallery, custom forms, and several features to strengthen Bell Isle Marina's web presence and add value for its customers.
Bell Isle Marina has been catering to the boaters of Hampton Roads since 1990 and continues to grow as a family-friendly destination on top of its boat storage and repair facilities. Situated on the southern bank of Back River, Bell Isle is just a few minutes away from the Chesapeake Bay's finest beaches, fishing and sailing. They also offer event booking at Bell Isle where guests can reserve the private beaches or picnic areas for their next birthday party, wedding, reunion, or company outing.
In Spring 2018 Bell Isle reached out to Insercorp to redesign their website, BellIsleMarina.com, which had been previously developed with WordPress, an open source template for building websites. While the previous website included some useful information and great use of visual aides it lacked sufficient branding and emphasized a defunct Beach Club while promoting events. As such the Marina's management desired a fresh online presence to reel in their audience to catch those searching for the location, services, and amenities Bell Isle offers. Having no uniquely identifiable design theme characteristics and insufficient search engine optimization it was time for a better alternative to the canned WordPress template site. Bell Isle knew the importance of communicating the right message to the right audience and they knew Insercorp would deliver the best solution.
The result was an engaging and interactive, nautical themed website that is easy to navigate and utilizes cutting edge technology developed on Insercorp's proprietary Web Content Management System, iPlasmaCMS2, allowing the marina staff to easily update the website's content. BellIsleMarina.com features a custom responsive website design allowing website visitors to smoothly sail through the website on any device whether on the go or at home or the office.
This user-friendly, interactive website allows intrepid mariners to view marina services and storage fees, make transient reservations, book an event, interact with "The Crow's Nest" Marina blog, or check the surf forecast and current tides. The photo gallery showcases the area's finest beaches, fishing, and sailing, showing first hand what Bell Isle Marina has to offer.
Bell Isle Marina's new website presents a custom design crafted by Insercorp's Creative Team which teases the marina's beautiful setting, unique atmosphere, and trendy vibes. Just like the Bell Isle Marina, the new website has something for beachgoers, fishermen, and sailors alike!
Visit the all new www.BellIsleMarina.com to see for yourself!