Insercorp Launches New Website Design for the Hampton Roads Chamber Rebrand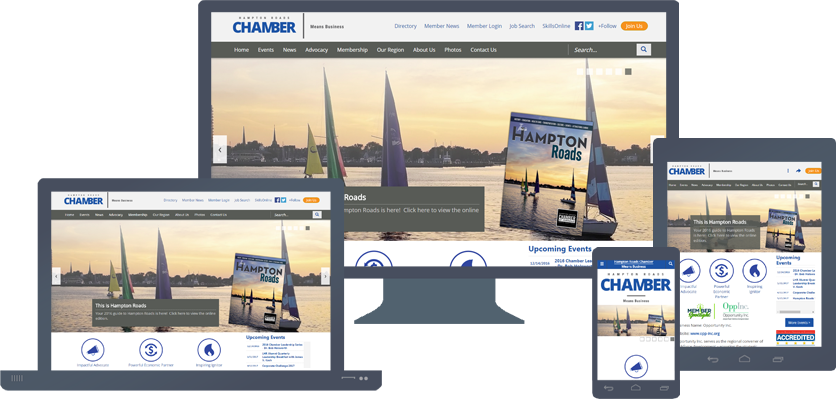 The Hampton Roads Chamber (HRC), comprised of over 2,500 members, is the region's premier business organization. The Chamber serves businesses throughout Hampton Roads, concentrated in the cities of Chesapeake, Norfolk, Portsmouth, Suffolk, and Virginia Beach. The Hampton Roads Chamber's mission is to become recognized as a national leader in ensuring a regional pro-business environment, strengthening a regional economy, and enhancing its members' success, growth and vitality.
The Hampton Roads Chamber has utilized Insercorp's website design and development services since 2010. Insercorp has been working with the Hampton Roads Chamber for over six years. Recently, the Chamber partnered with Free Agents Marketing (FAM) to undergo a rebranding campaign which included a new logo design for an impactful new look. Insercorp worked with the staff of the Chamber and FAM to coordinate the launch of the new website design during the Chamber's Annual Meeting of the Membership in December 2016 with the new "Brand Reveal" ceremony.
With the vision of a new brand came the need for updates to the design of HamptonRoadsChamber.com. The website design changes included updating the color scheme of the website to better reflect the Chamber's new brand (i.e. website header, navigation menu, website footer. etc.). Another noticeable change can be seen on the homepage, directly under the slideshow, with the addition of three re-branding related icons. Each icon contains an innovative hover effect that displays the meaning of each of the Chamber's three key goals. The design update included many usability improvements with both desktop and mobile navigation.
As the managed services provider for the Chamber's website services, Insercorp was able to upgrade the website's hardware infrastructure with the re-design, providing for faster and more reliable delivery of content for members, prospects, staff, and stakeholders alike.
Learn more about the Hampton Roads Chamber >
Learn more about the Project >