New Custom Search Tool Interfaces with HRTPO TIP Project Information Database


Tuesday, March 16, 2016 - Franklin, Virginia - The HRTPO TIP is a four-year program for the implementation of surface transportation projects in the Hampton Roads Metropolitan Planning Area. Insercorp has just deployed a new tool to give the public access to information related to regional transportation projects for FY2015-2018.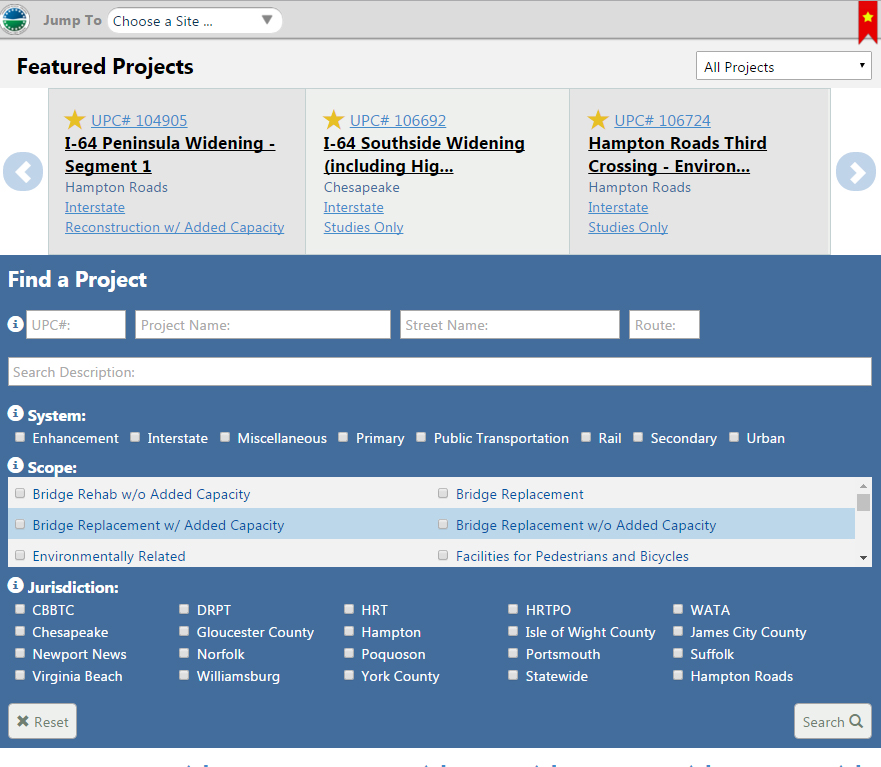 The Insercorp Development Team has unveiled a new Search Tool (pictured above) recently launched on www.hrtpotip.org, the website for HRTPO TIP (Hampton Roads Transportation Planning Organization Transportation Improvement Program). Stakeholders may use this tool to easily find any federally-funded and/or regionally significant transportation projects and project details.
Before any federally-funded and/or regionally significant surface transportation project can be built in the Hampton Roads MPA, it must be included in the current TIP that has been approved by the HRTPO.
Users may quickly search for a project by entering a UPC number, Street Name, or Route. The Advanced Search allows for the selection of System, Scope, and/or Jurisdiction to help refine a user's search. Search results present users with a sortable list including options to add or remove filters from results. Clicking on a project takes users to the project details where users may view, print, or download the project details including Project Summary, Scope, System, Jurisdiction, Project Cost and Funding, and more.
This user-friendly Search Tool provides the ability for citizens and stakeholders to stay informed by providing details on regional transportation projects in an organized and easily accessible database to the public. To try out the new search tool for yourself visit hrtpotip.org/tip-projects.
###
About Insercorp LTD
Insercorp LTD, formerly Bradshaw-Kimbrel Technology Group, LLC, was founded in 2007. The website design and development firm is best known for the creation of iPlasmaCMS2, a user-friendly web-based application that gives clients complete control over their websites. Insercorp provides website, marketing, and information technology services to business, education, government, healthcare, and non-profit organizations. Insercorp's work has received first place awards on State and National levels. For more information visit www.insercorp.com.
About HRTPO - Transportation Improvement Program
Prepared by the HRTPO, the Fiscal Year (FY) 2015 – 2018 Transportation Improvement Program (TIP) is a four-year program for the implementation of surface transportation projects within the Hampton Roads MPA, containing all federally-funded projects and/or regionally significant projects that require an action by the Federal Highway Administration (FHWA) or the Federal Transit Administration (FTA). For more information visit www.hrtpotip.org.
###