Insercorp Delivers New Website for HRPDC to help Contractors navigate and search the Hampton Roads Regional Construction Standards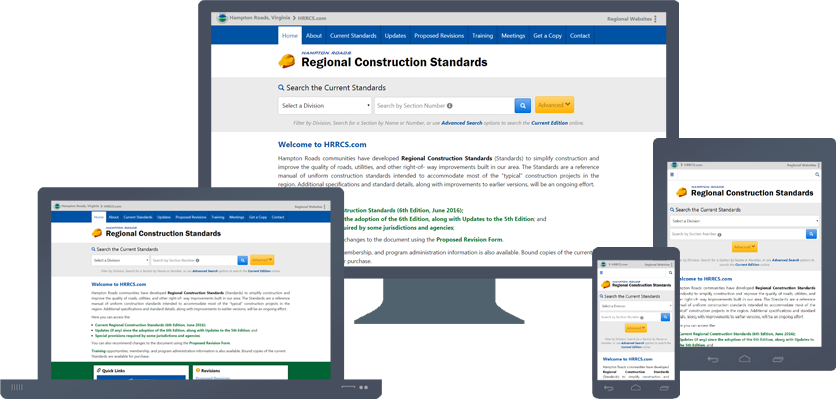 The Hampton Roads Regional Construction Standards (HRRCS) were developed with the support of the Hampton Roads Planning District Commission (HRPDC) and represent a collaborative effort of the 17 cities, counties, and towns that make up the HRPDC, along with the Hampton Roads Sanitation District (HRSD) and the Hampton Roads Utility and Heavy Contractors Association (HRUHCA). The Standards provide a single document for all 17 localities to use during the design and construction of roads (not Interstate roadways), potable water systems, sanitary sewer and storm sewer systems.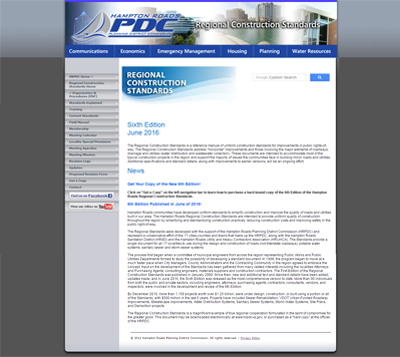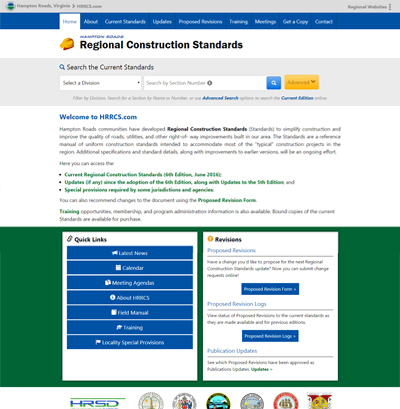 HRRCS.com was developed to serve as an online resource for accessing the Current Standards and previous available editions in one convenient database with basic and advanced search options. The search tool allows visitors to filter the Current Standards by division, search by section number or name, or use advanced search options such as Keyword Search to search by specific terms.
The new website also includes a simple online form to request proposed revisions to the standards, eliminating the need to worry about the hassle of printing and mailing in the change requests.
HRRCS.com is mobile responsive - meaning it will adapt to your device's screen size whether you access the website on your desktop, laptop, tablet, or smartphone. It was built on Insercorp's proprietary website content management system, iPlasmaCMS2 and features several innovative iPlasmaCMS2 Modules which help provide for organization of information and ease of navigation throughout the new website.
Click the links below for more details: