Insercorp has revamped the website for Western Tidewater's Country Radio Station, Real Country 101.7 WLQM-FM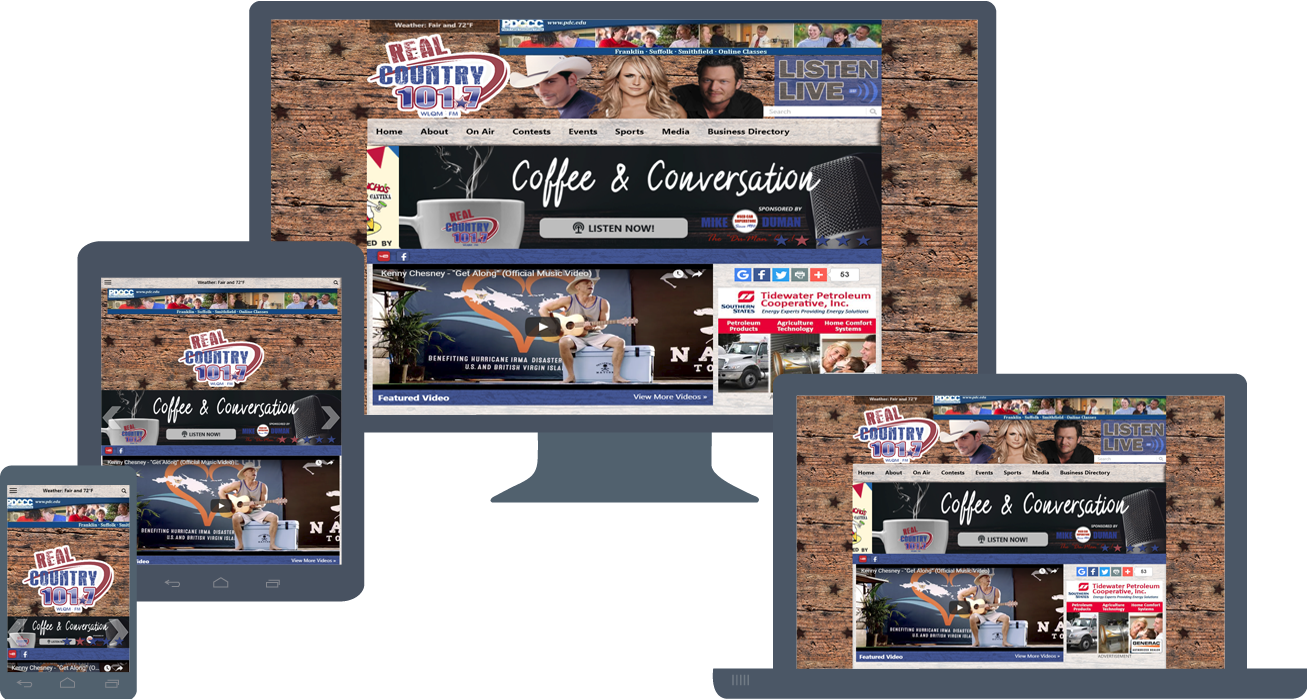 Franklin, Virginia -- Insercorp has unveiled several improvements to the website for Real Country 101.7 WLQM-FM, a country music radio station operated by Franklin Broadcasting Corporation which serves the Western Tidewater area of Hampton Roads. Insercorp has been providing Website and Graphic Design services to Franklin Broadcasting Corporation for the past decade. The new website features a custom layout, gallery, recently played songs, news and various other features to amp up the radio station's listeners and heighten interaction with their audience.
Real Country has been supplying locals with tunes, news, and information since 1956 and is still thriving with festivities and music. Real Country 101.7provides full-service local programming with a format of country music, further enhanced by NASCAR racing, play-by-play High School Sports, weekday morning local newscasts, National and World News and a host of community affairs programming. The station is heavily involved and committed to numerous non-profit and civic club events and fundraisers throughout the year and their commitment to community service has been recognized multiple years by The Virginia Association of Broadcasters, American Cancer Society and many other organizations.
Real Country has been utilizing Insercorp's services since 2008, including its award-winning website and logo. With technology constantly evolving Real Country was ready for an update with new interactive features. While the reboot was not a complete re-design it offers more interactive features and an improved interface to increase the value for Real Country's loyal listeners and advertisers. The country music station wanted a fresh and bold change to catch the attention of their followers and amplify their influence in the southwestern market of Hampton Roads.
Insercorp delivered to Real Country 101.7 a lively, updated look that is easy to navigate and streamlines the website to prominently feature what's playing, contests, events, photos, and other new features. The NASCAR and High School Sports sections of the website were revamped to easily follow the broadcast schedules. A podcast feature was added to share community clips and other proprietary segments that you might have missed. The website's responsive layout allows any music loving visitors to access the website's features or listen to their favorite tunes from anywhere. The website is built on Insercorp's proprietary website content management system iPlasmaCMS2, allowing for robust, dynamic content which the station manages themselves.
This user-friendly, interactive website allows followers of the station to view all upcoming concerts and events, listen to previously played songs from the station, sign up for the Real Country Listeners Club, and tune into Real Country's podcast Coffee & Conversation. RealCountry1017.com has everything for country music lovers and supporters of the station alike to partake in the station's activities or just to check in on what's going on!
Visit the updated www.realcountry1017.com to see for yourself!