Smithfield has many of the charms associated with Hampton Roads communities, including 18th & 19th Century architecture, a revitalized historic downtown, and all the character of a former colonial seaport. According to the Virginia Landmarks Register, Smithfield is "perhaps the best preserved of Virginia's Colonial seaports."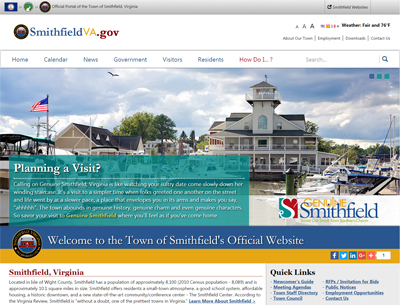 Insercorp was awarded a contract to re-design the Town of Smithfield's website! The Town's new website incorporated a new responsive design which was integrated into our proprietary iPlasmaCMS2 Web Content Management System, including several iPlasmaCMS2 Modules that enhance the website's capabilities.
The new SmithfieldVA.gov includes several database-driven modules which allow users to easily find information for residents, businesses, and visitors. This website has a professional appearance while maintaining the culture of one of Virginia's most well-preserved historical towns.
Features
Custom Responsive Design
iPlasmaCMS2 Content Management System
Slideshow Module
Staff Directory Module
News Module
Photo Gallery Module
Events Module
Departments Manager Module
Google Custom Search Engine Plugin
Online Job Application w/ Form to PDF Conversion