The Downtown Franklin Association, Inc., or DFA, is a non-profit organization that promotes and supports businesses in Downtown Franklin, Virginia. The DFA runs the annual summer concert series "We Be Jammin" as well as the annual Franklin Fall Festival and many other community events.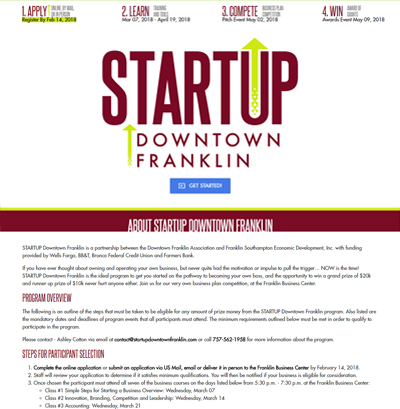 STARTUP Downtown Franklin is a partnership between the Downtown Franklin Association, Inc. and Franklin Southampton Economic Development, Inc. with funding provided by Wells Fargo, BB&T, Bronco Federal Credit Union and Farmers Bank.
Insercorp has continued its sponsorship of the STARTUP Downtown Franklin for the program's second year. Last year, Insercorp designed and developed an innovative and informative website as a sponsorship for the Downtown Franklin Association's new "Shark Tank" style program. The Insercorp Development Team created a custom online application form to make applying convenient and efficient. The STARTUP Downtown Franklin Website features Google Material design patterns, a unique "scroll up" interface, and time-triggers to automatically update the "start point" of where the website loads based on progression of the event.
Features
Custom Material Design Website
Unique Scrolling "up" User Experience
Multi-step Online Application Form
Interactive, Timer-based Navigation system